Sky 247 App Download: Sky247 Exchange, Betting, & Game App for Your Mobile Device
Here we'll look at the Sky247 download process for both Android and iOS, and take a deep dive into its features, ensuring that you have all the information you need at your fingertips.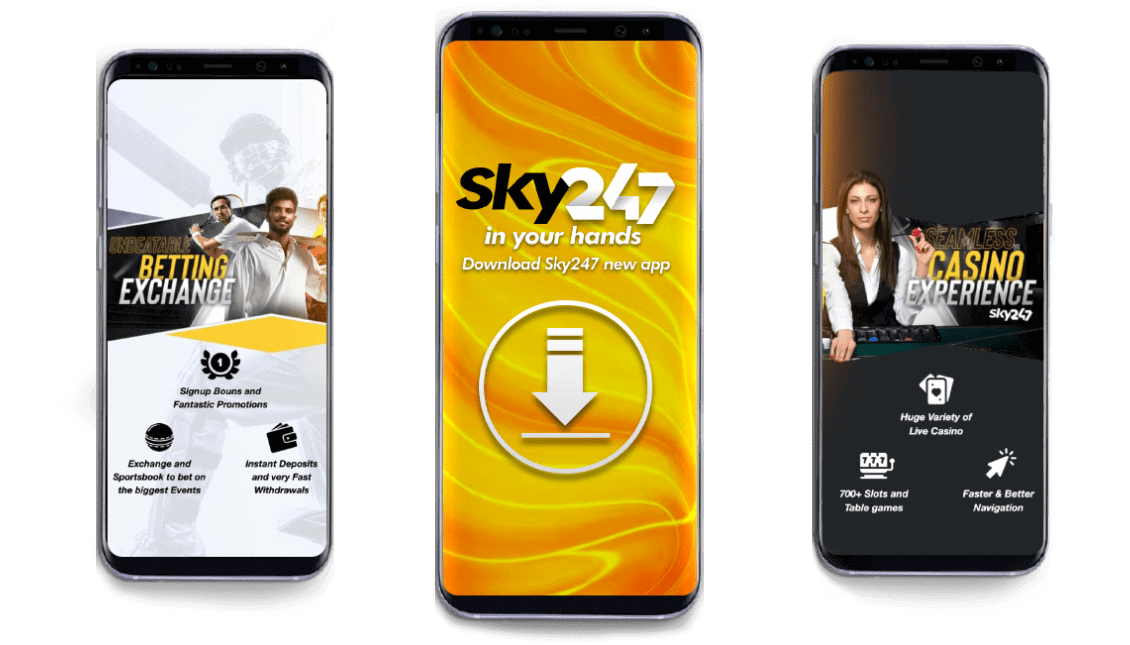 Sky247 App Overview
Before delving into this topic, it is initially important to understand what our Sky247 app is.
It is also important to understand how Sky247 works on mobile and desktop, and the differences between our Sky247 app and the website.
Sky247 App Characteristics:
| Feature | Information |
| --- | --- |
| App Version | 5.6 |
| Size of APK | 46 MB |
| Compatibility | Android, iOS, Windows |
| iOS Requirement | Minimum 3.0 |
| Android Requirement | Minimum 4.0 |
| Cost to Download | Free |
| Available on Play/App Store | No |
| Languages Supported | Hindi, English |
| Features | Virtual sports, Casino, Sports betting, Live casino |
| Transaction Options | UPI, GPay, PayTM, Bank transfer, PhonePe, Astropay |
| Licensing | Curacao |
| Assistance | Available via email, phone, and 24/7 chat |
About Sky247 App
We adhere to the principle of convenience for our users, so we have developed an app for our Sky247 bookmaker.
From the very first app login, users are greeted with a sophisticated yet intuitive interface that caters to both novices and experts. The app seamlessly integrates the exhilaration of betting with the convenience of mobile gaming.
Differences Between Sky247 App and Website
While the Sky247 mobile app is carefully designed for users who prefer to use mobile devices, with the website being a more extensive version suitable for desktop viewing.
However, what sets the Sky 247 app apart is its bespoke design tailored specifically for users who use mobile devices. From simplified navigation to one-tap bets, the app enhances every aspect of user interaction.
Moreover, with the Sky247 app download, you get instant notifications, ensuring you never miss out on any golden opportunities.
Sky247 Mobile vs. Desktop
While both platforms uphold the brand's commitment to excellence, the Sky247 mobile app is fine-tuned for swift bets, quick updates, and instant notifications.
Conversely, the desktop version offers an expansive view, ideal for those who prefer large screens.
However, the surge in Sky247 app downloads indicates a growing preference for mobile betting, given the flexibility it offers.
Sky247 App for Android: Features & Guide
The Sky247 app for Android stands out, not just because of its smooth user interface, but also for its wide range of features aimed at Android users. This section provides a detailed guide on the Sky247 download process for Android and an overview of its unique features.
System Requirements & Supported Devices
To ensure a seamless betting experience on the Sky247 app, it's essential to check whether your device meets the system requirements:
Specification

Details

Android OS

The app is optimized for Android 6.0 (Marshmallow) and above.

Free Space

At least 100MB of free storage is recommended for the Sky247 APK download and installation.

Connectivity

A stable internet connection, either Wi-Fi or 4G.

Supported Devices

Major brands like Samsung, OnePlus, Google Pixel, and more.

Also: Honor series, Huawei series, Samsung series, Xiaomi series, OPPO series, etc.

Compatibility

If your device can access the Google Play Store, it can run the Sky247 app.
Sky247 APK Download Steps
Getting Sky247 APK to your Android device is very easy. To do so, you need to do the following:
Visit the official Sky247 download page on your mobile browser.
Tap on the Sky247 APK download link.
Once downloaded, open the .apk file from your notifications or downloads folder.
If prompted, allow installations from unknown sources in your device settings.
Follow the installation prompts and wait for the installation to complete.
Launch the Sky247 app and you can immediately immerse yourself in the world of betting.
Troubleshooting: Common Android Installation Issues
Facing issues with the Sky247 download APK process? Don't worry we will help you to solve this problem.
Below are the most common problems and their solutions:
Error Installing APK: Ensure that you have sufficient storage and that you're installing the Sky247 ap from a trusted source.
App not launching: Clear cache and data for the app or consider reinstalling it.
Sky247 app login issues: Ensure you're using the correct credentials. Use the 'Forgot Password' option or contact customer support for further assistance.
Sky247 App for iOS: Features & Guide
iPhone and iPad users aren't left out of the exhilarating Sky247 mobile betting experience. Here's how to get the Sky247 app download ios and what to expect.
System Requirements & Compatible iOS Devices
For the smoothest experience on the Sky 247 app
| Specification | Details |
| --- | --- |
| iOS Version | The app is optimized for iOS 10.0 and newer versions. |
| Free Space | Allocate at least 100MB for the app and its subsequent updates. |
| Connectivity | As with Android, a stable Wi-Fi or 4G connection is a must. |
| Compatible Devices | The app is compatible with iPhones, iPads, and even iPod Touch devices that meet the OS requirements.Also: iPhone 7, iPhone 8, iPhone 8s, iPhone X, iPhone 11 and iPad 4, iPad 5, iPad 6. |
Instruction to Download & Install on iPhone and iPad
Open the Apple App Store on your device.
Search for the Sky247 app.
Tap 'Get' to initiate the Sky247 app download.
Once downloaded, it will auto-install.
Open the app, and you"re ready to explore the world of Sky247 betting app options.
Troubleshooting: Common iOS Installation Issues
Cannot find app on App Store: Ensure your App Store region allows betting apps.
Sky247 app login problems: As with Android, double-check your credentials or use the "Forgot Password" feature.
App Crashing: Ensure your iOS version is updated, or consider reinstalling the app.
Betting on Sky247 App
With its intuitive interface and broad spectrum of betting options, the Sky247 mobile app is the perfect place for those who like to have a good time. Whether you're a fan of sports or casino games, the 247 betting app offers something for everyone.
Available Sports and Betting Types
Using our Sky247 app you can easily and simply bet on sports and pick up big winnings right now. We offer a wide range of tools and provide all the necessary conditions to make it comfortable and fun for you to play.
At the same time, Sky247 offers a huge range of sports disciplines where everyone can find something to suit their tastes.
The Sky247 app covers a wide range of sports such as:
Volleyball
Soccer
Hockey
Cricket
Basketball and other.
Solo Sporting Challenges:
Badminton
Tennis and other.
Special events, tournaments, and leagues are regularly featured, ensuring that users have diverse betting options at their fingertips.
When it comes to bet types, it doesn't matter whether you prefer single bets, accumulative bets or system bets, our app has something for everyone. Betting has never been easier with the Sky247 app.
Each type of Sky247 betting app designed for both experienced players and beginners. We offer a unique way to participate in live sporting events. Below is a list of betting options you can use:
Match Winner: Simply predict which team or player will emerge victorious.
Spread Betting: Bet based on how much a team will win or lose by, adjusting the odds accordingly.
Over/Under: Wager on whether the actual score or stats will be over or under a predetermined number.
Handicap Betting: Adjust the odds by giving one side an artificial advantage or disadvantage, leveling the playing field.
Proposition Bets: Place bets on specific in-game occurrences or outcomes unrelated to the final result.
Accumulator Bets: Combine multiple bets into one, increasing the potential payout but requiring all predictions to be accurate.
First/Last Goalscorer: Predict who will score the initial or concluding goal in a match.
Outright Winner: Wager on who will triumph in a tournament or league as a whole.
Special Bets: Take advantage of unique betting opportunities related to specific events, such as the total number of yellow cards or the frequency of game corners.
How to Place Bets
Placing a bet on Sky247 is straightforward and user-friendly. To place a bet, follow the step-by-step instructions below:
Download and Install: First, download the Sky247 app and install it on your smartphone.
Login or Register: If you already have a Sky247 account, log in. If not, sign up for a new account.
Choose Your Sport: Browse through the available sports options and select the one you'd like to bet on.
Select the Event: Pick the specific game or match you're interested in.
Understand the Odds: Review the various betting options and their associated odds to make an informed decision.
Enter Your Stake: Key in the amount you're willing to wager.
Confirm Your Bet: Once ready, hit the "Place Bet" button to finalize your wager.
With these easy steps, you're all set to immerse yourself in the thrilling world of sports betting on the Sky247 app.
Exclusive Mobile Bonuses
The Sky 247 download doesn't just offer betting options; it brings exclusive bonuses for mobile users. From welcome bonuses for new users to loyalty rewards for seasoned betters, there's always something extra to look forward to.
Registration via Mobile App for Bonuses
The digital transition has significantly emphasized the importance of mobile apps. The primary appeal of these platforms is not only their convenience but the added bonuses that come with them. In particular, by registering on our Sky247 app, you can take part in our welcome promotion.
Payments on Sky247 App
Handling the financial aspects is of paramount importance to us. We understand the importance of this task, ensuring payment processes are streamlined, secure and convenient.
For deposits and withdrawals, you can choose from a variety of options such as credit/debit cards, e-wallets, bank transfers, etc. Simply go to the Payments section of our Sky247 app.
Deposit Methods & Guidelines
For those looking to make a deposit on the 247SKY, several options are available.
With AstroPay, you can deposit as little as 247 INR and go up to a maximum of 10,000 INR.
If you prefer using Direct Bank Transfer, the range starts at 247 INR, extending to a substantial 247,000 INR.
Similarly, UPI, PhonePe, Paytm and Gpaysafe have set the minimum deposit limit at INR 247, while they also allow a high maximum limit of INR 247,000.
Withdrawal Procedures & Limits
While AstroPay, UPI, PhonePe, Paytm, and Gpaysafe currently do not offer withdrawal services, Direct Bank Transfer stands out as a reliable option.
For those using Direct Bank Transfer, the minimum withdrawal amount is set at 1,000 INR, and the maximum reaches up to a considerable 700,000 INR.
Safety and Security Features
Betting is fun, but security is paramount. The Sky247 app download for android and iOS are both regulated by top-tier authorities, ensuring that your data and funds are always secure.
Furthermore, the Sky247 mobile uses advanced SSL encryption technologies, maintaining the confidentiality of user information.
Sky247 Mobile App User Support
In the unlikely event that you encounter issues with the Sky247 game download or any other app feature, the platform's robust customer support is available round the clock. From Sky247 APK login issues to withdrawal queries, the dedicated team is always ready to assist.
Reaching Customer Support
At SKY247 app, we offer efficient customer assistance. Reach the SKY247 personnel via live chat, phone, email, and social channels. Immediate support is available through chat. Their Enhanced Assistance ensures 24/7 availability, with problem resolutions averaging two minutes.
For regular social media users, support via WhatsApp and Telegram is available. Questions or inquiries about offers can be posed on their platform. Users have the ability to leave feedback and complaints, which our experts pass on to higher management for review.
FAQ
Why can't I install the Sky247 app on Android?
There might be a few reasons behind this. Ensure your device has ample storage space and that your Android version supports the app.
Rebooting your device or clearing your browser cache can sometimes help. Remember, downloading from the official Sky247 website is recommended for the best experience.
How to Withdraw from the Sky247 App?
Withdrawing from the Sky247 App is straightforward. Choose your preferred withdrawal method within the app, input the desired amount, and then initiate the transaction.
Typically, your funds should reflect in your account within a day. For any hiccups, the Sky247 support team is always there to assist.
Is the Sky247 app free to download?
Absolutely! The Sky247 app for Android and iOS devices can be freely downloaded directly from the company's official website without investing any money.
How to Download Sky247 APK for Android?
To get the Sky247 APK for Android, navigate to the official Sky247 website and locate the designated Android download icon. Once clicked, the download will commence immediately.
Do I need to register a separate account for the software on the mobile phone?
There's no need for that! Your Sky247 account is cohesive, meaning it's functional across both desktop platforms and the mobile app without any distinctions.
How can I withdraw my winnings on the Sky247 app?
Cashing out your winnings is a breeze. Simply head over to the 'Withdraw' section in the app, select your payment method, indicate the amount, and confirm the transaction. Wait times are generally short, but it's always good to check with your payment provider.
How to Uninstall the Sky247 App?
If you ever need to make space or wish to remove the app, uninstalling is like any other app. On Android, go to settings > apps, find Sky247, and hit uninstall. For iOS, long-press the app icon and select 'Delete App'.
Is SKY247 App Download Safe?
Certainly! The Sky247 app ensures the utmost security for its users. It's recommended to download directly from the official site to guarantee the most secure version of the app.